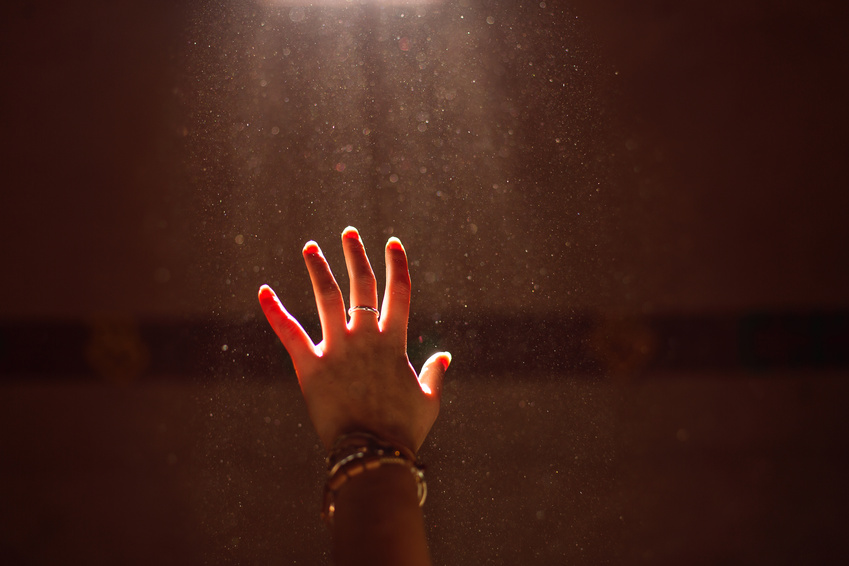 A leper came to him and kneeling down begged him and said, "If you wish, you can make me clean." Moved with pity, he stretched out his hand, touched the leper, and said to him, "I do will it. Be made clean." The leprosy left him immediately, and he was made clean.

~ Mark 1:40-41
The One Thing That We Do to Hold Back God's Mercy
Jesus is always willing to enter into the mire for us. I am taken aback at the way He never shies away from we sinners who call out to Him for help. But I think it is important, if not essential, this call for help. In the case of this beautiful encounter with the leper, it was the leper that came seeking Jesus. He initiated the process. He asked for help.
Many times in our difficulty we turn inward, closing ourselves off from God's saving grace. We think we can figure it out for ourselves. Or we go out in search of healing in the world, mistakenly thinking that someone or something will be able to help us.
Too often, we turn to our loving and merciful God only as a last resort. Why do you think that is? Perhaps it is shame. Knowing that we are not worthy to stand in His presence, we look for another solution. Or maybe we are unwilling to submit to the fact that we need God, for this dependency would require a commitment, a life change. We want to be healed without making any changes in our lives.
Is it perhaps our culture of minimalism, the desire for more with the least possible effort? We want to lose weight by taking some magic pill, when we know the answer is to change the way we eat and exercise. We want to make more money, but work less. We want to be loved, but are unwilling to love, to be forgiven, when we don't forgive. We want to be healed without life change.
God Can Touch Your Life, If Only You Would Ask Him
Yet is this not the challenge Jesus makes to us? He is always willing to heal us. And He wants only that we ask.
God never tires of forgiving us. It is we who tire of asking for His forgiveness.

~ Pope Francis, Evangelii Gaudium, 3
We've read again and again in the scriptures how Jesus heals. We have witnessed the healing power of God in the lives of those around us. And we have experienced His mercy first hand in our own lives. Yet we put ourselves through torture delaying our own healing, because we don't go straight to God and ask for His unfailing help.
This is one of the big challenges of the Christian life. Let us learn to rely on the Lord, to trust in Him, to pray as the psalmist does in saying:
Redeem us, Lord, because of your mercy.

~ Psalm 44
Thank God for the gift of the sacraments, for through them God reaches His merciful hand into our lives. And His touch is powerful, healing, merciful, life-changing. I challenge you to turn to Him, to seek Him out, to go to Him and ask. Like the leper you will feel the tenderness of Jesus' touch and your life will never be the same. I guarantee it.