Mary, Model of Evangelization [Podcast #002]
As Christians the desire to share the faith is more than just a commandment. Jesus did commission his apostles sending them forth and so he does to all. After undergoing a life-changing experience—in this case coming to know and love Jesus Christ—it's natural to want to share that with others. When you fall in love, you want to proclaim it to the whole world. The same is true with Christian evangelization.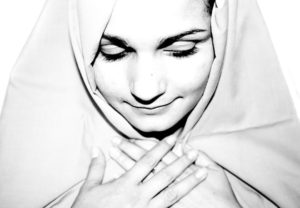 Podcast: Play in new window
Mary the Evangelist
We have given her the titles of the Mother of God (Theotokos), Our Lady, the Blessed Mother, and the New Eve, but rarely do we call her an evangelist. And so she was. Not an evangelist in the sense of having written a gospel or boldly proclaimed on the street corners. And even though she remains almost silent in the Gospel, through her lived example of faith in God she succeeds in evangelizing.
What we have come to know about the Blessed Virgin through Sacred Scripture can help us to come closer to Christ, and that was always her mission.
"His mother said to the servers, 'Do whatever he tells you.'"
In seeking to lead others to Christ, we do as she did. Her example serves as inspiration for us as evangelists and that's why I am recommending the rosary as a tool of evangelization. Meditating on the joyful mysteries of the rosary I find them to have an overtly evangelistic tone. And as the prime model of a disciple of Christ, there is much to learn from Mary of Nazareth.
First Joyful Mystery: The Annunciation
The first of the joyful mysteries is taken from sacred Scripture—as all of the mysteries of the rosary are—specifically Luke 1:26-38 and Matthew 1:18-25.
"Then the angel said to her, "Do not be afraid, Mary, for you have found favor with God. Behold, you will conceive in your womb and bear a son, and you shall name him Jesus."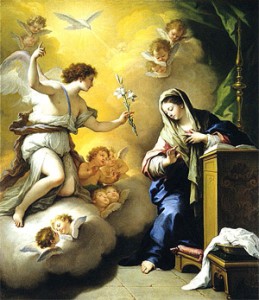 Mary is at first troubled by the greeting of the angel Gabriel: "Hail, full of grace." She is troubled because in true humility she doesn't see herself as anything more than the "haindmaid of the Lord." In her fullness of grace, she is able to accept the mission that God has given her of bringing the savior into the world.
"Behold, I am the handmaid of the Lord. May it be done to me according to your word."
In our own efforts to spread the Gospel in word and in deed, we must follow this pattern that Mary has shown us. First, we acknowledge that we can't do anything on our own, but only by God's grace which we accept with humility. Second, we must submit to the plan that God has for us—even if it's not what we want—realizing that the results are in His hands and that we are just opening ourselves up to be, what St. Francis of Assisi called "instruments of his peace."
Second Joyful Mystery: The Visitation
I always find it interesting that the first thing Mary does after receiving the good news is to go and share it with those closest to her, in this case her cousin Elizabeth (Luke 1:39-45).
"During those days Mary set out and traveled to the hill country in haste to a town of Judah, where she entered the house of Zechariah and greeted Elizabeth."
I love that she went "in haste." She doesn't want to waste any time, the good news—the Gospel—is urgent! Don't be quick to think this example is an isolated incident that took place two millennia past. The Visitation is something that we should live at least every Sunday, if not every day. As Catholics we go to Mass and receive our daily bread, Jesus Christ, in the Eucharist. It is in this Holy Communion with God through His Son that we are also called to communion with our brothers and sisters. The worldwide community needs good news, the Gospel, the teachings of Christ, and most importantly they need the person of Jesus Christ, the Son of God. He is their salvation and it's our duty and responsibility to bring Him to them.
So often evangelization is defined as bringing people to Christ, but how much more important is it that we bring Christ to the people!? God calls all people to himself, that's not our job. Our job is the conversion of our culture by the lived example and witness to the truth.
"Go, therefore, and make disciples of all nations, baptizing them in the name of the Father, and of the Son, and of the holy Spirit, teaching them to observe all that I have commanded you. And behold, I am with you always, until the end of the age."
Most of us are familiar with these commissioning words of Christ to the disciples, but more often than not we forget about the second part of the commissioning. Yes we can baptize any and every one, but that's just the first step. We can't forget that whole part about teaching them to observe all that He commanded us. It's easy to "get dunked" and even more to do the dunking, but the second and just as essential duty of instructing of new Christians in the faith is more time-consuming and for that reason it seems to be forgotten. The poor catechizing of the faithful is a big reason for the recent decline of practicing Catholics around the world.
"Mary remained with her about three months and then returned to her home."
We must be willing not only to share the Gospel, but to stay those "three months" or even longer providing support and instruction in word, in deed, and more importantly in our active presence in the lives of our brothers and sisters in Christ.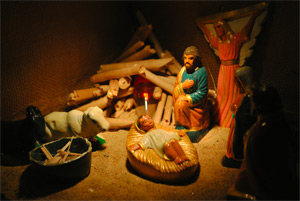 Third Joyful Mystery: The Nativity
About half-way through the rosary we get to the third joyful mystery and immediately the plastic Nativity scene pops into our heads.
"While they were there, the time came for her to have her child, and she gave birth to her firstborn son. She wrapped him in swaddling clothes and laid him in a manger, because there was no room for them in the inn."
Christ is born, salvation has come. Jesus must always remain the center of our lives and the ends to which our efforts at evangelization strive. It is all about Him. In our efforts to evangelize we can often become proselytizers, trying to convert any and everyone who crosses our path. We can get into theological debates, beating each other over the head with the Bible, but in the end we have to remember that He is our goal.
[In our efforts to evangelize, let us be careful as to not become like those] "that have been so occupied in spreading Christianity, that they never gave a thought to Christ."

~ C.S. Lewis
Christianity without Christ is just another dumb idea. I like the image of the shepherds dropping everything they were doing and going to catch a glimpse of the newborn king. Likewise, the Magi traveled from distant lands to pay homage to the Savior of the world. We too must maintain Christ as the center of our lives. Remember, we can't give what we don't have. Our personal relationship with Jesus Christ is what allows to go out in His name.
Fourth Joyful Mystery: The Presentation
"When the days were completed for their purification according to the law of Moses, they took him up to Jerusalem to present him to the Lord…"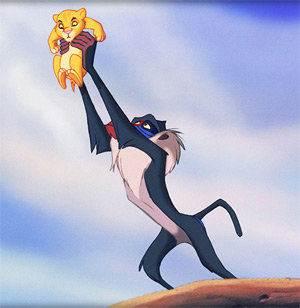 In presenting Jesus to the Lord at the temple, He was also being presented to all those in attendance. I like to picture Mary placing the infant Jesus into the aged, leathery hands of a gray-bearded temple priest who in turn raises Him up above his head with his arms extended towards Heaven. Picture the scene from the Lion King where Simba is held up by Rafiki. For my fellow Catholics, you see the striking similarity to the priest holding up the consecrated host at Mass. All those gathered in the temple would have seen Jesus, the son of Mary, which I think speaks volumes to the way in which we should live our faith.
Our daily lives should bear witness to Christ. The things we do, the way we talk, and the love we share should prove that we are Christians. We shouldn't be afraid to let people know that we are Christians. Like Mary, we should be lifting up Jesus for all to see through the example we set for the world.
"…just as it is written in the law of the Lord, 'Every male that opens the womb shall be consecrated to the Lord.'"
The word consecrate means to make holy or sacred. Each of us in order to give witness to Christ must first be made holy. Holiness isn't really something to be attained, it's more like something to be lived. When we start to become more like Jesus—loving God and our neighbor as He did—we are on the right track towards holiness.
Fifth Joyful Mystery: The Finding in the Temple
The Passover was a big deal for the ancient Jews, hence Mary and her family would make a yearly pilgrimage to Jerusalem to celebrate this special feast. In Luke's account, he tells us that Jesus ends up getting lost as they made their way home from the temple. Of course, Mary and Joseph are freaking out, looking everywhere to find Him.
"After three days they found him in the temple…"
They were relieved when they found Jesus, just as we are when we do. Mary and Joseph got a little careless, as we often do, and found themselves walking away from Jesus. It happens to the best of us. Sometimes we think our relationship with the Lord is as good as it's ever been. We're so close to Jesus it's like Heaven on Earth. Then, before we know it, we look around and realize that we're not following Him anymore. We've strayed from the path and are following ourselves. At first we don't notice it, but the further we get from Him, the clearer it becomes that we are lost. Lucky for us, we know just where to find Him. We trust in the same words that He tells Mary.
"Why were you looking for me? Did you not know that I must be in my Father's house?"
He is in His Father's house. Of course! Jesus is always in the temple, present in the Eucharistic bread. We can go to any Catholic church and we know as soon as we walk through those doors that we are going to find Jesus Christ waiting for us in the tabernacle. Or, if we're really blessed, He will be exposed on the altar in the Blessed Sacrament.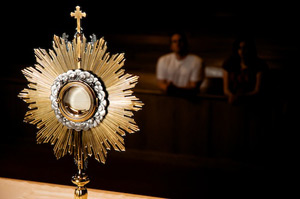 It is here in the silence that you find your risen Lord, humble and quiet in the form of bread, yet enthroned in all His glory for you to see. And guess what, He's been expecting you! He wants to talk to you. You don't even have to say anything. Just be with Him. Let Him hold you. Allow His peace, His mercy, and His love to resonate in your heart as you kneel before Him. I guarantee you won't walk away the same. Neither did Mary and Joseph. They probably thought, "I'm never going to let this happen again! I'm never going to leave Jesus. I'm going to stay close to Him no matter what." And that's what we all need, to be close to Jesus. To talk to Him and more importantly to listen to Him.
"If we're talking ABOUT Jesus more than we're talking TO Jesus, than we're missing the point."

~ Dr. Michael Barber
We can study fat books on theology, we can go to church every Sunday, we can tell the whole world how important Jesus Christ is, but if we don't know Him, and love Him, and want to just be with Him, than why waste our time? Fr. Larry Richards says, If we aren't willing to spend our time with Jesus now, then what good is Heaven, where we will be with Him for eternity?
The Means to the End
Mary had the special gift of being the vessel through which Jesus came into the world. We too are given the opportunity of bringing Jesus to the world, especially to those closest to us, our friends and family. By meditating on the joyful mysteries of the rosary we can follow the example that Mary has set for us as evangelists. And we also ask for her intercession. After all, she is the Mother of God and Jesus is a mama's boy. She is the means to the end. The end being our Lord, Jesus Christ.