Get Over Yourself, Dude! [Podcast #001]
Can you please explain to me why a trophy is rewarded to a child who comes in last place? It's not good to be a loser. We don't earn things anymore, but rather expect that our rewards should just fall out of the sky. Our society makes us think that we are entitled, owed, due to receive. Our wants get mistakenly transformed into needs. The universe begins to revolve around me. We build ourselves up, inflating our ego beyond the natural limits, which of course leads to a dangerous end. This way of thinking is unfortunate. Jesus, the radical that He was, countered this very concept in many ways. He made losing a good thing. Keep reading and you'll see what I mean.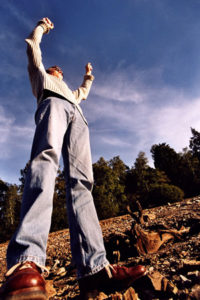 Podcast: Play in new window
A Louzy Group of Guys
At first thought it is often difficult for me to understand why Jesus—if He is God, all-knowing, omniscient—would pick such a louzy dozen of guys to be His disciples. It reminds me of those times back in elementary school during recess when we would all line up and be pick teams. You always pick the people that are better players, that are going to score more goals, that have a reputation of winning. This was not the case with the twelve disciples.
You would think that spending years walking around with Jesus that they would catch on pretty quick, right? Not these guys. They are always asking Jesus to explain things a second time. They never get it. They are some thick-headed men. Jesus gives Simon the name Peter—meaning rock—and gives him the keys to the kingdom, making him His vicar (representative, deputy or substitute; anyone acting "in the person of" or agent for a superior). As the "rock" you'd think Peter would've stuck around until the end like told Jesus at the Last Supper, but he and all the other guys disappear as soon as they saw those swords. Dogs are more loyal to their masters than that.
To Serve or to Be Served?
When Jesus sits them all down at the dinner table to celebrate the Passover, He decides to give them one last lesson—a lesson in humility, in self-giving, in sacrifice. The cross is the ultimate example of this, but here I'm talking about the washing of the disciples feet. Jesus, the Christ, the Son of the Living God, gets down on His knees and starts washing their feet. You have to remember in those days that everyone wore sandals and there weren't any sidewalks. So, their feet were covered in dirt. This is the job of a slave or servant, but Jesus willingly picks up a basin and a towel and proceeds to get His hands dirty.
"Christ Jesus, Who, though he was in the form of God, did not regard equality with God something to be grasped. Rather, he emptied himself, taking the form of a slave…" ~ Phillipians 2:6-7
Peter doesn't get it at first either and tells Jesus not to wash his feet. But Jesus convinces him that it is necessary. This is what's called servant leadership (Read the rest of Phillipians 2 for a better understanding). Jesus as the master or teacher leads his disciples by serving them. He said it Himself:
"For the Son of Man did not come to be served but to serve and to give his life as a ransom for many." ~ Mark 10:45
He is trying to get it through the thick skulls of the twelve that if the Christ is willing to become as a slave, then they too must learn to empty themselves, humble themselves, and die to themselves.
A Simple Challenge
When will we ever learn that it is not always about us? It's about what you can do for others and how you can better love God and neighbor. We can all be selfish and self-centered. We often need to remind ourselves, if not, then let the Pope tell you:
"We need, I need, not to claim my life as my own, but to place it at the disposal of another – of Christ. I should be asking not what I stand to gain, but what I can give for him and so for others." ~ Pope Benedict XVI
These words are simple, but they pack a punch. It's a challenge. The same challenge that Jesus gives to all of us, to get over ourselves. If He can do it, then we can do it. The Agony in the Garden shows how hard it was for Him. His sweat turned to blood, because inside Him a battle was underway as He united His will to that of the Father. In the end, God's will was victorious, but Jesus was rightly rewarded for losing. For He lost Himself.
"Whoever finds his life will lose it, and whoever loses his life for my sake will find it." ~ Matthew 10:39
Jesus got over Himself and He wants you to do the same. Many will say that the Catholic Church is complicated with all the rules that we have to follow, but being a Christian is simple. Mind you, simple does not mean easy. You've got to die to self, before you can live for Him. That great part about is that we have hope. Remember that louzy group of guys that I talked about earlier? Read the second chapter of Acts and you'll see that they finally got it. They too got over themselves and lived—and died—for God. Now it's your turn! If that doesn't give you hope, then I don't know what will.