Thrift Store Book Haul (VIDEO)
---
I love to read, but I usually don't buy new books. I buy most of my books at the thrift store. Each time we go to the thrift store I end up walking out with a bag or two of books for only a couple of bucks. So I wanted to share with you my latest haul.
The 10 Books
---
Why I Recommend Wild at Heart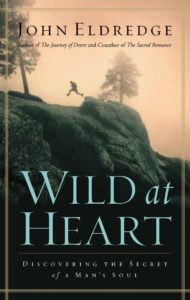 I've read four or five of his books and all of them have been life-changing. A lot of guys struggle in their faith, to live it out in practical ways, to really understand what it means to live in relationship with God. This books explains what that's all about. It explains what we've lost as men and how to get it back.
I've given it out before and always get good feedback. Ladies get this book for the men in your life—husbands, fathers, brothers, etc. Guys, if you want to take seriously your relationship with God, this book is a must-read! It is written by John Eldredge who is one of my favorite Christian authors. It's accessible. It's profound. It's powerful. It's life-changing.
Disclaimer: Ricky Jones is a participant in the Amazon Services LLC Associates Program, an affiliate advertising program designed to provide a means for sites to earn advertising fees by advertising and linking to Amazon.com. In laymen terms: This post contains affiliate links which means if you purchase any of the books through the links on this page I will be compensated. I am not affiliated with the authors or publishers of any of these books, but I share them here as I have purchased them myself and plan to read and review them for the benefit of you my reader. An affiliate link costs you nothing and I use the income to keep the blog rolling. Thanks for supporting Leaders That Follow!